About
The Life and Legacy of Nigel K. Olsen
NigelOlsen.com
has been set up to honor the life and legacy of Lance Corporal Nigel Olsen, USMC. It will contain stories, pictures, and links to other memorials to Nigel as the family desires.
Here is a sampling of stories from Honor the Fallen, Fallen Heroes, Deseret News, and KSL.
The Carlos-Nigel Scholarship Fund can be found
here.
A brief biography of Lance Corporal Nigel Olsen
Below is an excerpt from the story at Fallen Heroes:
Marine LCpl Nigel K. Olsen, 21, of Salem died March 4, 2010 in Helmand province, Afghanistan, while supporting combat operations. Olsen was assigned to the 4th Light Armored Reconnaissance Battalion, 4th Marine Division, Marine Forces Reserve, Camp Pendleton, California.

Olsen's death comes two days after the death of another Marine from the Camp Williams-based Charlie Company of the 4th Light Armored Reconnaissance Battalion. Carlos Aragon, 19, of Orem was on a foot patrol when he stepped on a pressure-activated homemade explosive.

The two Marines had been students together at Mountain View High School in Orem, where Olsen graduated in 2007 and Aragon graduated in 2009, according to the two Marines' social networking pages.

The picture of the 6-year-old boy on the beach standing at attention and giving the camera a smart salute tells you everything you need to know about Lance Cpl. Nigel K. Olsen, said his sister, Stacy Hansen.

"At the age of 3, he knew what he wanted to do," Hansen said. "He wanted to serve his country." Hansen said her brother joined the Marine Reserve after his high school graduation, but his interest in the military was a lifelong passion.

"He would run around the neighborhood in his camos, playing war with the neighborhood kids," she said. "He was a great brother."

During a recent telephone call, Hansen said Olsen had complained about not being as involved in some of the fighting as he would have liked. "The last time my mom talked to him, he was upset because they were not able to be in a gunbattle," she said. "They ended up being in the thick of it."

In his spare time, he liked playing Xbox and spending time with his family. "He loved Sunday dinners at my mom's house and playing with all of his nieces and nephews," she said.


Olsen moved to Salem two years ago with his parents, Todd and Kim Olsen, and lived there when he wasn't on training exercises. He also took classes at Utah Valley University.

Excerpted from "Fallen Heroes"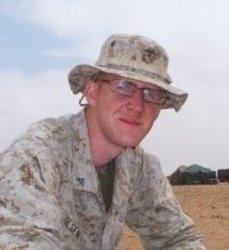 Please contact me if you can help with this memorial to Nigel